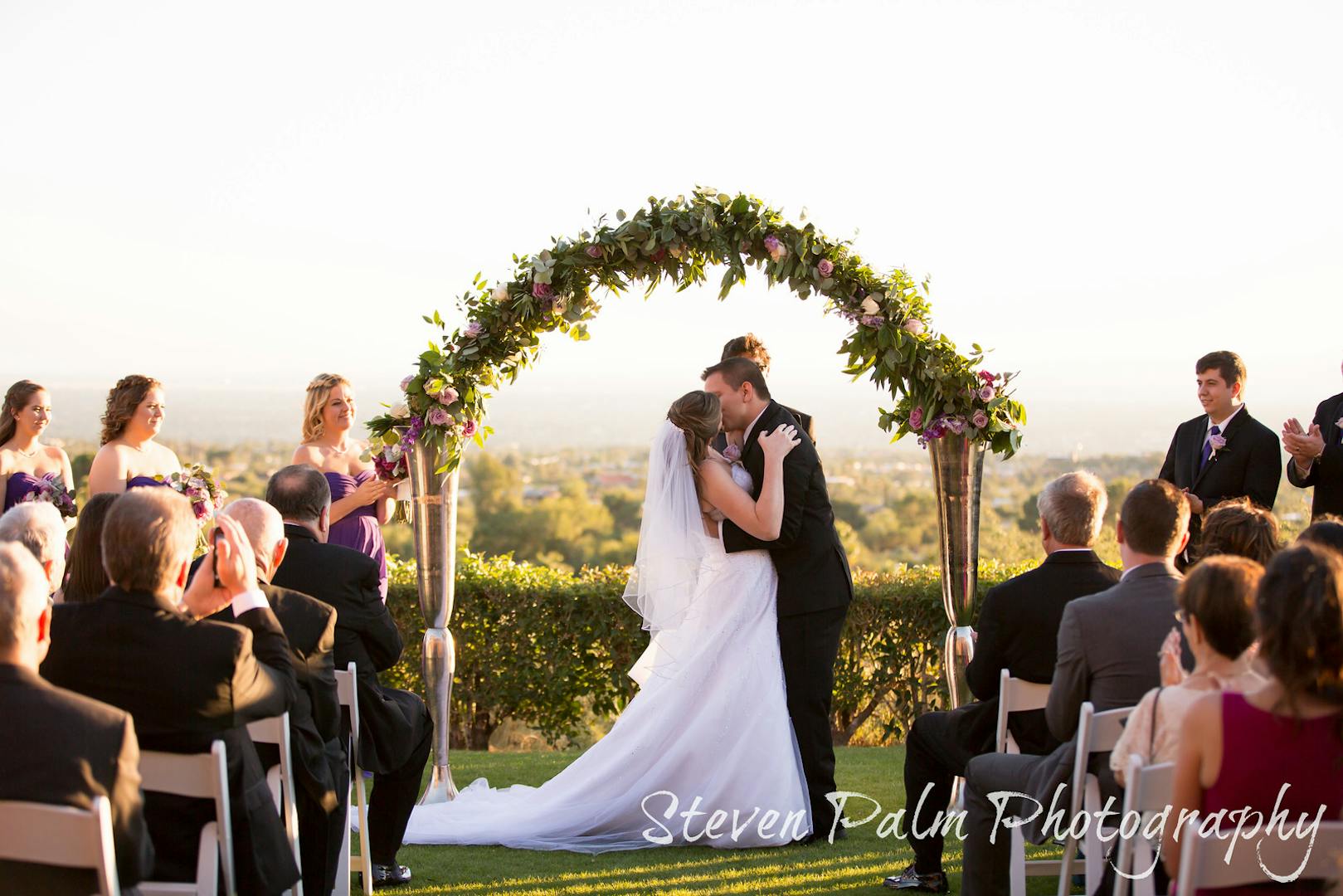 Skyline Country Club is the perfect setting to make your Tucson wedding spectacular. Imagine, if you will, your wedding staged at the base of the Santa Catalina Mountains. Picture your guests sitting on a bed of grass watching the two of you state your vows framed by an unobstructed view of the Santa Cruz Valley.
Your guests have been anticipating this moment since they received the invitation to join you on this very special day at Skyline Country Club. At the magical hour, before the sun sets, you can gracefully descend the spiral staircase as your favorite music plays and your once-in-a-lifetime wedding ceremony begins to unfold.
Now as a couple, you joyfully greet your guests and enjoy a handpicked selection of mouthwatering hors d'oeuvres and cocktails prepared specifically for the two of you. You enjoy a number of private moments and countless opportunities for memorable photographs. Your guests will be inspired by the glistening city lights below and savor appetizers prepared by our award-winning culinary staff.
As your wedding day reaches a crescendo, your guests will cordially be invited to join you in the spacious ballroom that overlooks the city of Tucson, Arizona. Here the Celebration continues as your guests are treated with timely and friendly service while the enchantingly decorated room and candlelit tables provide a romantic setting for a culinary delight.
To begin the journey of planning your dream wedding at Skyline Country Club, please complete the form below. We'll get back to you shortly!
The Skyline Room, a large room seating up to 300 guests, is located on the east side of the main floor of the Clubhouse. Skyline Country Club is noted for the 180-degree city view from this area.
Skyline Country Club is one of the top venues for weddings in Tucson. With our breathtaking mountain views and incredible service, we can make your special day extraordinary. The Club offers a variety of spaces for special events and parties for members and their guests.
The Crown Room, located on the third floor of the clubhouse, is used for private parties that do not exceed 120 people. This area, being on the top level of the club, boasts amazing views and is a well-loved location for weddings and anniversary parties as well as meetings.
Specialty Items
Fireworks
Pipe and Drape
Theme Décor
Buffet Chef
Private Bar
Wedding coordinator