Skyline has one post-tensioned hard concrete tennis court, four pickleball courts (hard surface) and four red clay tennis courts. Made of a material found right here in Arizona, the clay is a delight to play on during our hot spring and summer months, staying as much as thirty degrees cooler than a hard court. This surface is a medium-speed, all-purpose court, which is much easier on joints and muscles than the more common hard court, especially for those players with "old injuries." Four of the courts are lighted for evening play, and we have a backboard area and ball machine for practice. Our Members also enjoy the game of Pickle Ball on the courts as well. Plenty of court fun for everyone!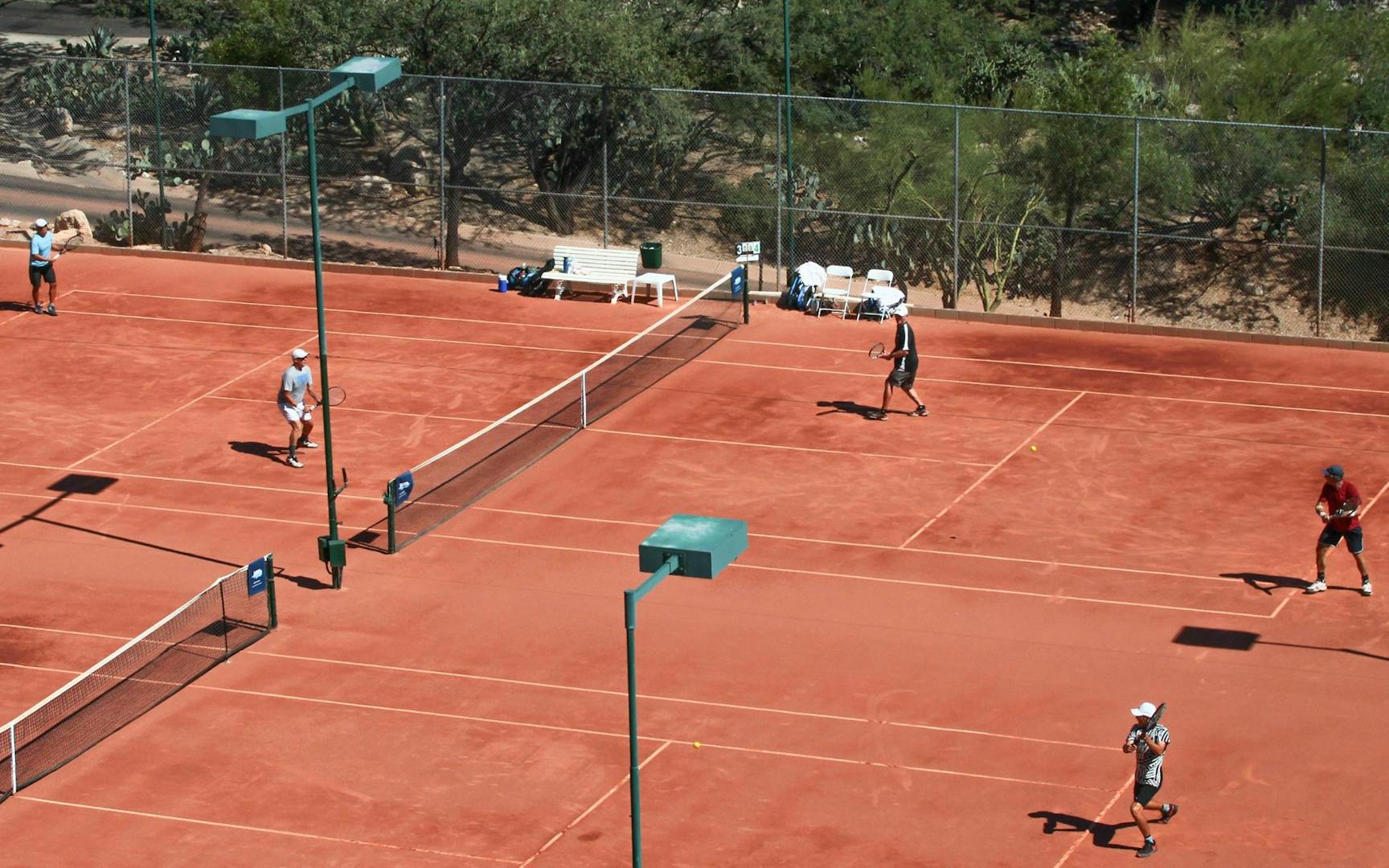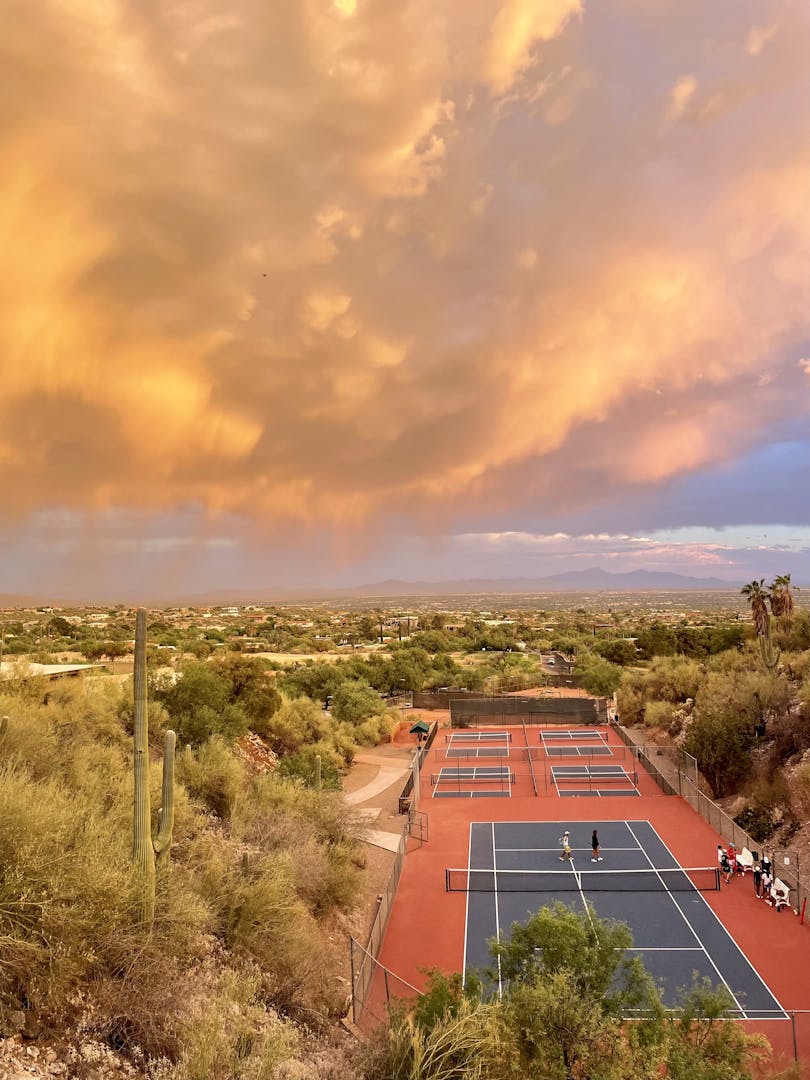 Unique to most private clubs, Skyline Country Club has a broad cross-section of players on both a competitive and social level. There are clinics, leagues, tournaments and special events geared toward all level of players, providing fun and challenging play for each ability. Each week, we also offer open play (drop-in) for men and women.
David Smith, our Head Tennis Professional, came back to Tucson after spending the last eleven years as the Assistant Director of Tennis at Desert Highlands in Scottsdale. There he worked on all types of courts (including clay), coached all levels of playing ability, and assisted in the development of high-quality Interclub Teams. Over the last seven years, David has been a driving force behind the success of the USTA Slam Series Grass Championships--one of the largest grass court tournaments outside of Wimbledon.

Prior to Desert Highlands, David spent sixteen years as the Assistant Director of Tennis at Tucson Country Club. There he was an integral in the establishment of successful USTA Interclub Teams as well as the development of multiple top junior players in the Southwest Section. As a player, David competed in three USTA 5.0 Nationals along with various City Interclub Championship Teams in Tucson.

If you would like to schedule a clinic or a lesson, please email David at davidamuir67@gmail.com or call (520) 299-4977.
Fink Tennis Academy
Coaches David and Tricia Fink proudly run Fink Tennis Academy at the beautiful Skyline Country Club, teaching players of all levels and ages to develop tennis skills and a lifelong passion for tennis. FTA focuses on the fundamentals required to make the game fun, while investing in all of our students to reach their tennis goals.
David Fink is a USPTA and USPTR Certified Tennis Professional with 24 years of coaching players of all levels and ages, ranging from first-time players to national champions and Division 1 collegiate players. Coach David has trained and coached more than twenty Division I scholarship players and introduced the game to thousands of players. Coach David encourages all of his players to set goals and compete, as many of his players become avid tournament players.
In addition to coaching at Skyline Country Club, David is the Catalina Foothills School District Middle School Head Tennis Coach. David earned a master's degree Sports Management and Leadership (Duquesne University).
In his mid 40's, David continues to play competitively at the open level, winning 45 USTA Men's Open sanctioned tournaments between 2001-2023, including the 2020 Men's Open Tucson City Championship and earning the Men's Open Southwest #1 ranking and #11 ranking in Men's Open nationally (2022).
Tricia Fink is a USPTA Certified Tennis Professional who excels in working with new players, always finding a way to make the game fun for players of all ages. Coach Tricia combines patience with tremendous tennis knowledge to ensure that all players enjoy every moment of being on the courts.
Tricia is the current SAZ USTA League Coordinator and a multiple-time USTA league team district champion with an undefeated record at USTA Sectional Championships.
Contact us today to join FTAs after school junior clinics, weekend adult clinics or for private or semi-private lessons. To reach Fink Tennis Academy, call or text us at 412-716-6000 or email us at finktennisacademy@mail.com
Follow FTA on Instagram (Fink Tennis Academy) and at finktennis.com.
During the season we strive to provide a wide variety of different events to accommodate all the needs of our membership. Our social events have become extremely popular; whether an accomplished player or a beginner, our socials provide a great opportunity for everyone to gather and have a great time. During the summer, the always- popular Tennis Camp provides juniors with a mix of tennis, golf, swimming, and indoor activities. We are always looking to expand the program, adding new and exciting flavors to the menu of tennis activities.