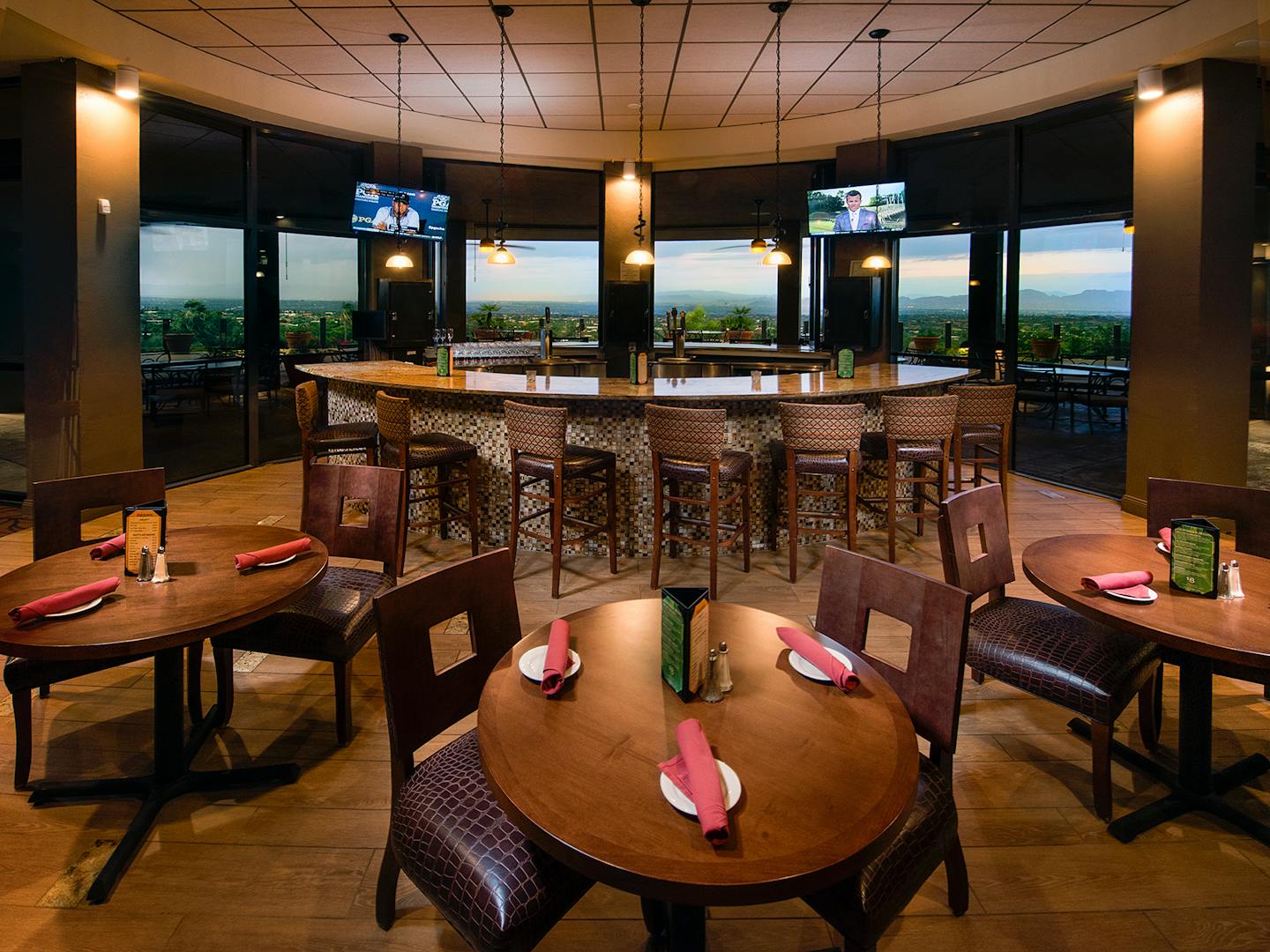 Welcome to The Top
Notes and special menus are listed at the bottom of this page, including Fish & Chips Fridays, Prime Rib Saturdays, and our limited-time Winter Menu. Enjoy!



Starters

---

Nachos

crispy corn tortilla chips, cheddar pepper jack blend, salsa bandera, black olives, cilantro crema - 12

Vegetable Tempura

haricot verts, red & yellow peppers, cauliflower, turmeric onions, green goddess - 9

Grand Marnier Shrimp

red cabbage slaw, mandarins, poppy seeds - 14

Chicken Quesadilla

roasted corn, black beans, green chilies, queso oaxaca, salsa fresca - 13

Seared Ahi

togarashi spice, napa cabbage, yuzu aioli, black radish - 12

Boneless Wings

buttermilk battered, choice of hot sauce, honey chipotle bbq, sweet chili, carrots, celery sticks - 12

Shrimp Cocktail

jumbo poached shrimp, cocktail sauce, lemon aioli - 14

Drummies

chicken drumsticks, chipotle raspberry sauce, toasted almonds - 12

Salmon Cakes

beet puree, lemon aioli, greens, red wine vinaigrette - 14

Greek Fries

Mediterranean spice blend, lemon aioli, feta cheese - 10




Sandwiches

---

Mediterranean Flatbread

Italian crust, gyro meat, artichoke hearts, olives, tomato, feta & mozzarella cheeses - 13

Junior Club

two slices toasted wheat, shaved ham, turkey lettuce, tomato, bacon, swiss - 12

Skyline Burger*

toasted brioche bun, lettuce, tomato, onion, pickle wedge, choice of cheese - 13

B.L.A.T.

toasted sourdough, mayo, bacon, lettuce, avocado, tomato - 13

Fried Egg Sandwich

toasted ciabatta, lettuce, tomato, bacon, avocado, chipotle aioli - 12*

Corned Beef Rachel or Reuben

seeded rye, swiss, 1000 island, coleslaw - 14

Turkey Burger

toasted potato bun, brie, dried cranberry mayo, granny smith apple - 13

French Dip

torpedo roll, shaved prime rib, swiss, sautéed onion, au jus - 13

Tuna Melt

sourdough, dill havarti, tomato - 12

Soup du Jour

soup du jour or beef chili - 7/5

California Chicken

toasted potato bun, roasted red pepper, avocado, swiss, chipotle aioli - 13

Meatball Sub

hoagie roll, marinara, provolone - 13

Beyond Burger

vegan, plant-based burger, brioche bun, lettuce, tomato, onion - 12




Greens

---

Cobb

romaine, iceberg, grape tomato, bacon, blue cheese crumble, onion, avocado, and choice of dressing - 12/9

Spinach & Strawberry

black pepper roasted almonds, mandarins, feta, crispy onions, lemon poppyseed dressing- 12/9

Superfood

shaved brussels sprouts, kale, quinoa, dried blueberries, pistachios, roasted beets, avocado, red wine vinaigrette - 12/9

Sesame Noodle

red bell pepper, marinated noodles, carrot, edamame, bok choy, toasted sesame seeds, and ginger soy - 12/9

Sonoran

romaine, iceberg, roasted corn, black beans, salsa bandera, queso oaxaca, corn tortilla strips, and chipotle honey lime - 12/9

Caesar

hearts of romaine, white anchovies, sesame seed croutons, lemon - 12/9

Wedge

crisp iceberg, grape tomatoes, blue cheese crumble, chopped bacon, crispy onions - 9




Entrées

---

Chicken Pot Pie

roasted chicken, mire poix, herbs de Provence, cremini mushroom, puff pastry - 29

Pan Seared Walleye

yukon gold potato puree, lemon caper cream, blistered tomatoes, spinach - 28

Diver Scallops

pistachio basil pesto, mushroom risotto, lemon arugula - 30

Honey Bourbon Salmon *

roasted fingerling potatoes, gingered watercress, cremini mushroom - 31

Garlic Shrimp & Broccoli

angel hair, blood orange, crushed red pepper, butter, oregano - 23

Filet Mignon*

pan seared, yukon gold potato puree, shallot demi-glace, romanesco - 36

Baby Back Ribs / Smoked Brisket

honey chipotle bbq, chive cornbread, slaw - 24

Grilled Ribeye*

melted gorgonzola, peppercorn demi-glace, jumbo onion rings, yukon gold potato puree - 36

Duck Confit

cured and slow cooked, French green lentils, orange cherry gastrique, watercress - 18

Pappardelle Bolenes

veal, beef, pork, parmesan, gremolata - 21




Wine by the Glass

---

Chardonnay

Sonoma Cutrer - Napa Valley 9

Chateau Ste. Michelle, "Mimi" - Central Coast 8

Kendall Jackson, "Avant" - California 7.5

Fruity & Dry

Charles and Charles, Riesling - Yakima Valley, Washington 7.5

Sauvignon Blanc & Pinot Grigio

Miner, Sauvignon Blanc - Napa Country 8.5

Mohua, Sauvignon Blanc - Marlborough 8

Scarpetta, Pinot Grigio - Italy 8.25

Cabernet

Joseph Carr - California 11

Cannonball - Sonoma 9

Merlot and Pinot Noir

Revelry, Merlot - Colombia Valley, Wa 8

Baileyana, Pinot Noir - Edna Valley 11

Folly of The Beast, Pinot Noir - Central Coast 8.5

Full Bodied Red

Klinker Brick, "Old Vine" Zinfandel - Lodi 10.5

XYZin, Zinfandel - California 8.25

Altocedro, Malbec - Argentina 8




The Liquor Cabinet

---

Bourbons

Jack Daniel's

Jim Beam

Knob Creek

Maker's Mark

Wild Turkey

Gins

Beefeater

Bombay

Bombay Sapphire

Tanqueray

Tanqueray Ten

Hendrick's

Rums

Bacardi Light

Captain Morgan

Malibu

Meyers's

Whiskeys

Canadian Club

Crown Royal

Jameson

Seagram's Seven

Seagram's VO

Scotches

Chivas 12 Year

Cutty Sark

Dewar's White Label

Glenfiddich

Glenlivet

J&B

Johnny Walker Red

Johnny Walker Black

Macallan 12 Year

Tequilas

Jose Cuervo

Sauza

Hornitos

Patron

Vodkas

Absolut

Belvedere

Chopin

Grey Goose

Kettle One

Smirnoff

Stolichnaya

Tito's

Ciroc
*The consumption of raw or uncooked meat, fish, eggs, seafood or shellfish can increase your risk of food borne illness. This is especially true for people with certain medical conditions.
Gluten Free

Premier Pricing is 50% off à la carte menu
Special Weekly Dining Events
Fish and Chips FRIDAYS
Tempura batter Dipped and Fried to a Golden Brown Alaskan Cod Served with Coleslaw French Fries and Tartar Sauce - 17
Prime Rib* SATURDAYS - After 5pm
Comes with Soup or Salad and Your Choice of Dessert
8oz - 30 | 12oz - 35