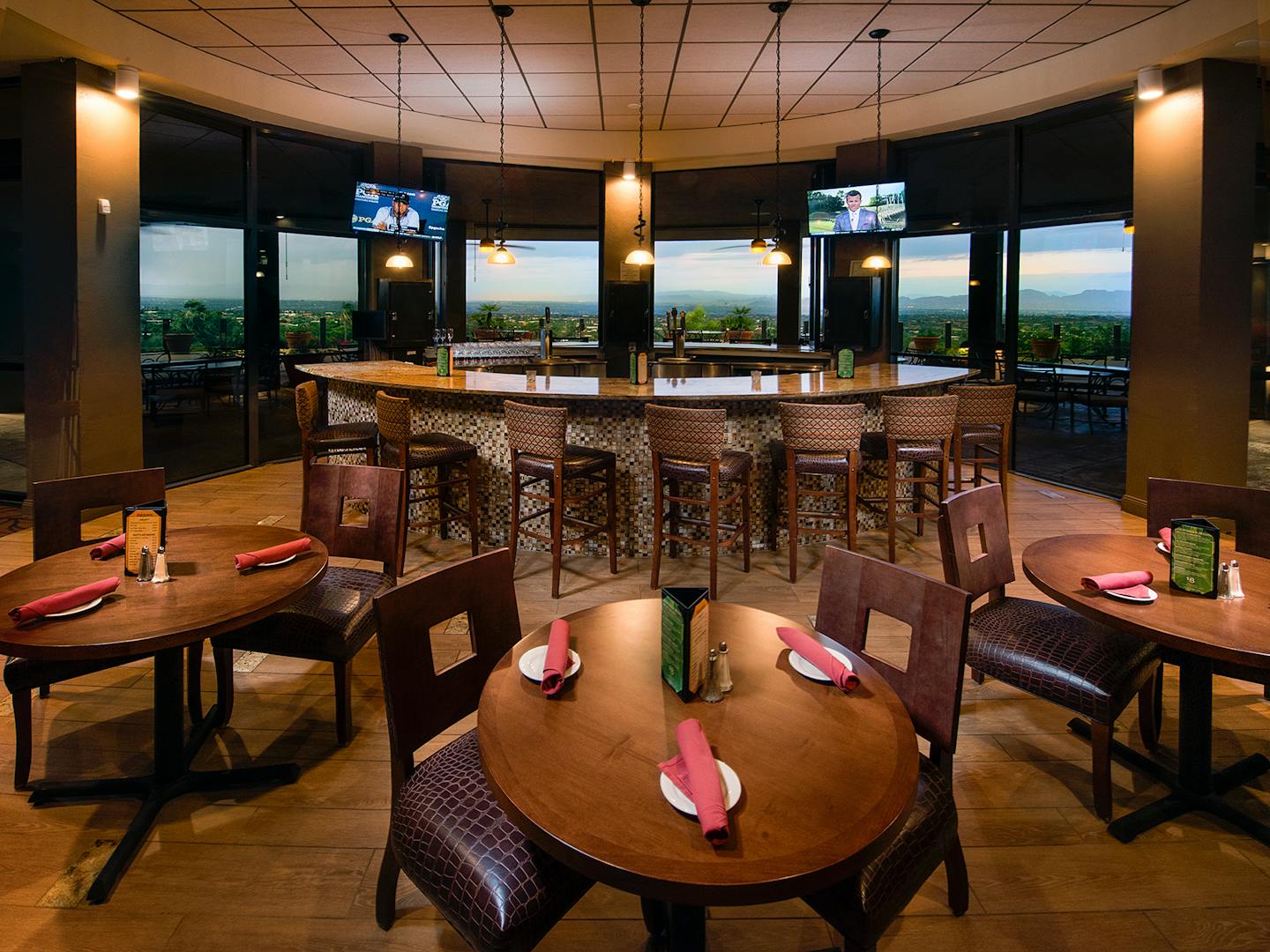 Welcome to The Top
Notes and special menus are listed at the bottom of this page, including Fish & Chips Fridays, Prime Rib Saturdays, and our limited-time Winter Menu. Enjoy!



Starters

---

CHEESE BOARD

Chefs' selection of cheeses, fruit, house made jams, nuts and crackers - 12

CHICKEN QUESADILLA

Sonoran spiced grilled chicken breast, cheddar- jack cheese, black beans, corn salsa in a flour tortilla sided with salsa & guacamole - 12

LOADED SKYLINE NACHOS - GF

House-baked corn chips, smoked gouda nacho cheese sauce, shredded cheddar-jack cheese, Sonoran spiced grilled chicken breast, black beans & corn salsa, and fresh jalapeño slices- 13

PRIME RIB SLIDERS

Shaved prime rib with caramelized onions and Swiss cheese on toasted pretzel slider buns with horseradish aioli and side of au jus - 13

KICKIN' HOT WINGS

Eleven crispy fried bone-in wings served with choice of classic buffalo, mango habanero glaze, or sweet & bold maple whiskey barbecue sauce. Sided with carrot & celery sticks and ranch dipping sauce- 14

GRILLED GREEK FLATBREAD

Grilled house-made flatbread dough, grilled chicken breast, kalamata olives, feta cheese, chopped spinach and diced roasted red peppers - 14

GARLIC SPICED MUSSELS

A healthy portion of black mussels with fresh garlic, herbs, lemon wedges, olive oil, and a hint of red chili flakes in a white wine broth - 15

SHRIMP COCKTAIL - GF

Five poached tiger shrimps, chilled and served with zesty cocktail sauce and lemon wedges- 16

GRAND MARNIER SHRIMP

Five shrimp with a creamy grand marnier glaze over coleslaw - 16




Greens

---

CLASSIC CAESAR

Chopped romaine hearts, garlic croutons, shaved parmesan cheese, tossed with classic caesar dressing - 12/9

QUINOA & KALE SUPERFOOD GF

Quinoa, organic mixed greens, avocado, fresh blueberries, toasted pistachio nuts, roasted beets, tossed in a red-wine vinaigrette- 9/12

SONORAN

Chopped romaine hearts, mixed greens, roasted corn, black beans, salsa bandera, queso blend, corn tortilla strips, chipotle honey lime dressing - 9/12

STRAWBERRY & SPINACH

Baby spinach, sliced strawberries, sun-dried cranberries, candied Arizona pecans, feta cheese, and mandarin orange segments, tossed with a reduced-calorie prickly-pear poppyseed dressing- 9/12

GINGER CHICKEN LETTUCE WRAP GF

Five spice roasted chicken breast, carrots, green onions, and shredded baby bok choy with ginger -sesame dressing served in napa cabbage leaves - 12

STUFFED AVOCADO

Chicken salad & tuna salad stuffed avocado over a bed of arugula with fresh lemon wedges and baby heirloom tomatoes

- 12




Kids Menu

---

KIDS PASTA

Pasta with house-made marinara sauce ,butter, or cheesy alfredo sauce- 8

CHEESE PIZZA

Small pizza with marinara and mozzarella cheese - 8

KIDS DELI

Wheat or sourdough with a choice of turkey, ham, chicken salad or tuna salad, choice of cheese and mayo. (Peanut butter & jelly is available) - 7

CRISPY OR GRILLED CHICKEN TENDERS

Breaded chicken tenderloin fritters or grilled tenders with BBQ sauce. Served with choice of side - 8




Sandwiches

---

GRILLED PORTOBELLA PRETZEL

Grilled portobella mushroom, bleu cheese crumbles, roasted red pepper, and caramelized onions, with balsamic dressed arugula on a toasted pretzel bun with boursin cheese spread - 13

SKYLINE CLUB

Two slices of wheat bread, shaved ham & turkey, Swiss cheese, lettuce, tomato and mayo- 12

Add avocado - 2

CLASSIC REUBEN/RACHEL

Sliced corned beef, sauerkraut, thousand-island dressing, and Swiss cheese on toasted rye bread - 14

HATCH TURKEY MELT

Sliced oven roasted turkey breast, sauteed bell peppers & onions, pepper jack cheese, on toasted sourdough bread, with roasted jalapeno aioli and guacamole spread - 14

SKYLINE BURGER

Half pound grilled angus beef patty with choice of cheese, on a toasted brioche bun with lettuce, tomato, onion, and pickle

(Vegan patty available upon request - 14

Add avocado or bacon – 2




Entrées

---

TORTILLA CHICKEN MILANESE GF

Tortilla crusted chicken breast, cilantro-lime white rice, chicken jus, petite arugula salad with tomatoes, jicama, red bell pepper slivers, and shaved red onions tossed in a cilantro dressing - 26

PORK SALTIMBOCCA

Pork tenderloin scallopini with prosciutto, lemon sage demi-sauce with wild mushrooms, roasted garlic & herb mashed potatoes, sautéed spinach & swiss chard, and fried capers - 28

GRILLED SALMON ALMONDINE

Grilled salmon filet over apricot rice pilaf, sauteed haricot verts, shallot white-wine butter sauce, chopped marcona almonds - 30

FILET & SHRIMP

Grilled 6oz. prime filet mignon, 3 pan seared shrimp, tarragon lemon bearnaise, root vegetable risotto, sauteed spinach & swiss chard - 34

BLUE MUSHROOM RIBEYE

Grilled 10oz. ribeye steak topped with sauteed wild mushrooms and bleu cheese crumbles, pan fried smashed fingerling potatoes, grilled vegetables, red wine reduction - 32

SCALLOPS & RISOTTO

Pan seared sea scallops, asparagus risotto, sauteed zucchini noodles, lavender-balsamic reduced fennel, fried parsnip sticks - 40

FISH FRY

Tempura battered & fried cod, sidewinder fries, coleslaw, and zesty remoulade Available all day only on Fridays - 19

PRIME RIB

Chef's signature spiced slow cooked prime-rib, with grilled veggies, roasted garlic & herb mashed potatoes, au jus, and horseradish sauce

Available on Saturdays after 5pm

10 oz – 32 or 12 oz – 35




Dessert

---

HOUSE-MADE DONUT HOLES

Four donut holes dusted in cinnamon & sugar, with crème anglaise and ginger-vanilla tuille - 7

ESPRESSO BLACK FOREST CAKE

Deconstructed black forest cake with macerated cherries, espresso chocolate sauce, and almond whipped cream - 8

GELATO

Vanilla Bean
Spumoni
Strawberry
Coffee Chocolate Chip
Dark Chocolate

RASPBERRY & RHUBARB GALETTE

Free-form personal pie with a raspberry & rhubarb cinnamon filling topped with a scoop of vanilla ice cream and candied almonds - 8

SORBET

Blackberry Cabernet
Lemon




Wine by the Glass

---

Chardonnay

Sonoma Cutrer - Napa Valley 9.5

Rombauer - California 11

Duckhorn - Napa Valley 14

True Myth - Edna Valley 8.5

Kendall Jackson, "Avant" - California 7.5

Fruity & Dry

Max Mann - Germany 7.5

Sauvignon Blanc & Pinot Grigio

Miner, Sauvignon Blanc - Napa Country 8.5

Chasing Venus, Sauvignon Blanc - Marlborough 8

Rombauer, Sauvignon Blanc - Napa Valley 8

Scarpetta, Pinot Grigio - Italy 8.25

Cabernet

Joseph Carr - California 11

Bonanza - California 9

Merlot and Pinot Noir

Cannonball, Merlot - Sonoma 9

Fossil Point, Pinot Noir - Edna Valley 11

Full Bodied Red

Klinker Brick, "Old Vine" Zinfandel - Lodi 10.5

Pillars of Hercules, Red Blend - California 10

Altocedro, Malbec - Argentina 8




The Liquor Cabinet

---

Bourbons

Elijah Craig

Jack Daniels

Jim Beam

Knob Creek

Maker's Mark

Wild Turkey

Smoke Wagon

Gins

Beefeater

Bombay

Bombay Sapphire

Tanqueray

Tanqueray Ten

Hendrick's

Rums

Bacardi Light

Captain Morgan

Malibu

Meyers

Whiskeys

Canadian Club

Crown Royal

Jameson

Seagram's Seven

Seagram's VO

Skrewball Peanut Butter

Scotches

Chivas 12 Year

Cutty Sark

Dewar's White Label

Glenfiddich

Glenlivet

J&B

Johnny Walker Red

Johnny Walker Black

Johnny Walker Gold

Johnny Walker 18 Year

Johnny Walker Blue

Macallan 12 Year

Tequilas

Jose Cuervo

Sauza

Hornitos

Patron

Casamigos

Komos

Don Julio 1942

Vodkas

Absolut

Belvedere

Chopin

Deep Eddy

Grey Goose

Kettle One

Stolichnaya

Tito's
*The consumption of raw or uncooked meat, fish, eggs, seafood or shellfish can increase your risk of food borne illness. This is especially true for people with certain medical conditions.
Gluten Free

Premier Pricing is 50% off à la carte menu
Special Weekly Dining Events
Fish and Chips FRIDAYS
Tempura batter Dipped and Fried to a Golden Brown Alaskan Cod Served with Coleslaw French Fries and Tartar Sauce - 17
Prime Rib* SATURDAYS - After 5pm
Comes with Soup or Salad and Your Choice of Dessert
8oz - 32 | 12oz - 35